Happy Valentine's Day (and long weekend!) to all you searchers out there. Here's a look at the past week in Google Search:

Artists in the spotlight
Around The Grammy's last week, two artists were at the front of the search pack: Beck, who took home the Album of the Year award, and Kanye West. Kanye almost pulled a Kanye (of 2009 VMA's fame) when he appeared on the verge of interrupting Beck's acceptance speech; West was upset that Beck won the award over Beyonce, who (according to West) had the best album of all time.

Other top artists in search include Sia—along with Kristen Wiig, who appeared in Sia's Grammy performance, although Sia's face did not—and Annie Lennox, who's still got it. Finally, searchers were struck by a sober moment during the ceremony: after domestic abuse survivor Brooke Axtell shared her personal story on stage, search interest in [domestic violence] spiked 93x.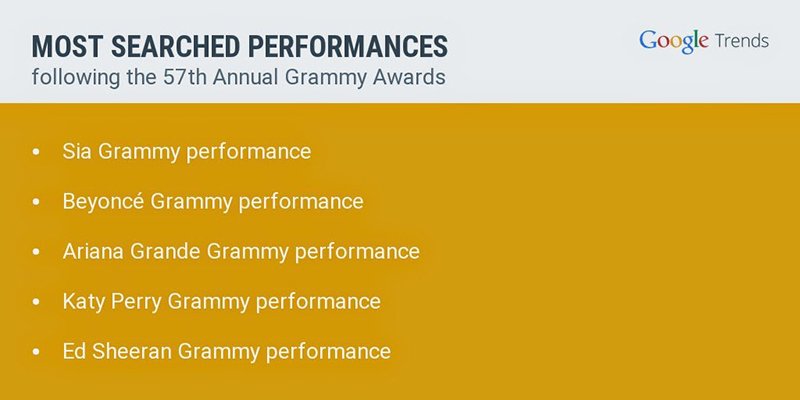 News in the news
Shock followed shock for news hounds this week. First, a week after Brian Williams admitted that he had wrongly claimed to have been on a helicopter that was shot down in Iraq in 2003, he was suspended for six months by NBC's Nightly News. Now he's at an all-time high in search. Meanwhile, Jon Stewart announced he will leave The Daily Show after 16 years, devastating loyal fans everywhere and inspiring speculation over who will replace him. And finally, we said goodbye to two legends of journalism: Bob Simon, CBS News reporter and 60 Minutes correspondent for decades, and The New York Times' media columnist David Carr are being mourned by colleagues and readers.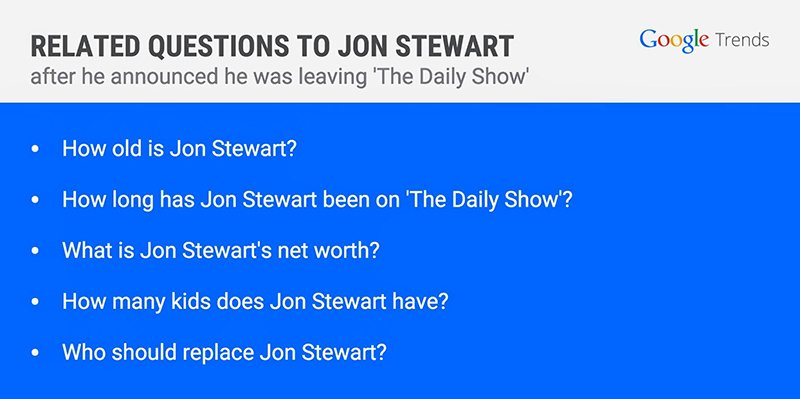 Jackpot
Some lucky viewers got a sneak peek at the third season of Netflix drama House of Cards when new episodes were accidentally posted online. More than 50,000 searches followed as people tried to get a glimpse before they were taken down. And speaking of lucky, this week's $500+ million Powerball jackpot had people searching like crazy in hopes of winning the big bucks. There were 2 million searches for [Powerball] on Wednesday, and more for [mega millions] and [lottery numbers]. So far, one person has come forward to claim one of the three winning tickets, so maybe you should check your pockets...

Searching for love
Valentine's Day has people scrambling and searching for flowers and gift ideas. Interestingly, there are three times as many searches for [gifts for a boyfriend], than [gifts for a girlfriend], but when it comes to married couples things are reversed: there are more searches for [gifts for wife] than for [gifts for husband]. (We'll just leave that there.) People turn to search for planning all kinds of Valentine's Day activities, from "What should I wear on a first date?" to choosing a romantic movie.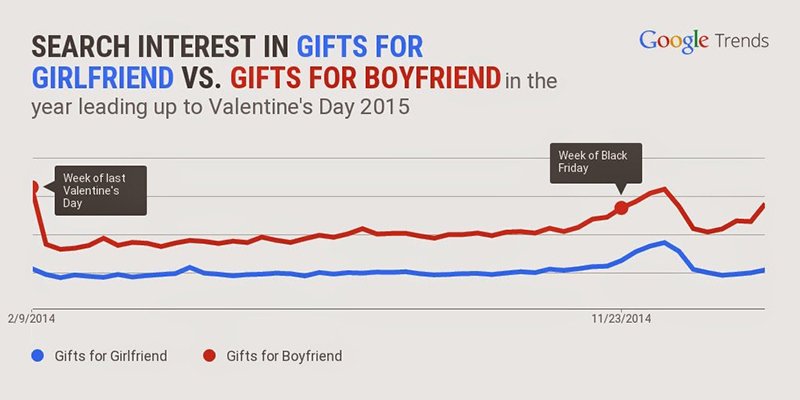 Tip of the week
Go on, tell that special someone how you feel this weekend. The Google app can help—when your own words just aren't good enough, say "Ok Google, show me a love quote." Pro tip: give credit where credit is due. No one likes a plagiarist.