I've worked on the Doodle team at Google for more than five years — and I believe this year's theme, "I am strong because…" is our most powerful prompt to date. And not just because of the unprecedented pandemic and growing social movements and conversations we've seen sweep our nation and world over the last year. This theme also presents an opportunity to not only honor, but also celebrate a more general beautiful truth that we sometimes don't talk about enough: kids are strong and resilient. And that strength is boundless and inspiring.
We kicked off the 13th annual Doodle for Google contest back in January and invited K-12 students across the country to submit their artistic interpretations of "I am strong because…". We received tens of thousands of submissions from students in all 50 states, as well as Washington D.C., Guam, Puerto Rico and the U.S. Virgin Islands. After carefully reviewing all the submissions, we announced our 54 state winners and opened up public voting on our website. And today, we're happy to share that the votes are in, the judges have deliberated and drum roll please…we're ready to announce our five national finalists for the 2021 Doodle for Google contest! 
Our finalists were chosen based on a combination of public voting and our judging criteria, including artistic merit, creativity and how well participants communicated the theme in their artwork and written statement. We're supremely grateful to each of these artists for trusting us with their inspiring stories of inner strength. Meet our finalists: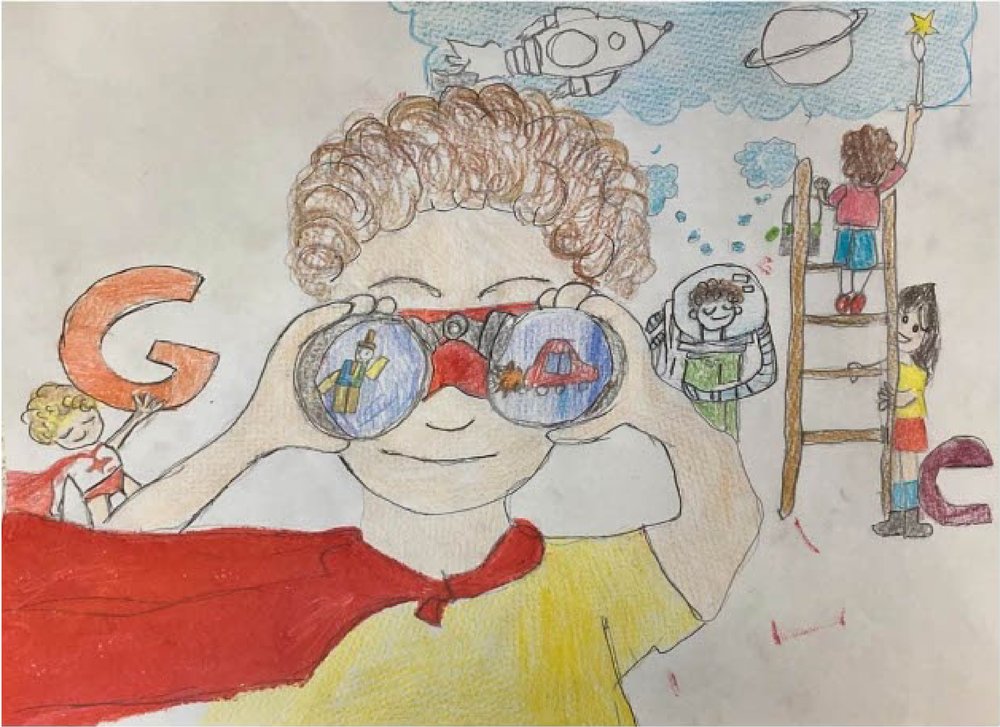 K-3rd grade National Finalist: Sadra Rajaee, Arizona
Title: Imagination brightens the future
Artist statement:"I am strong because I have an imagination. With my imagination I make my parents laugh and help them through hard times."

4th-5th grade National Finalist: Elise Then, Oregon
Title:Nature's Strong-Fold
Artist statement:"In this Doodle, I choose to represent strength found in nature using origami. For example, hummingbirds, the smallest bird in the world, can beat their wings 40 times in the blink of an eye! Nature is a gift where I derive my strength. I must appreciate and care for it."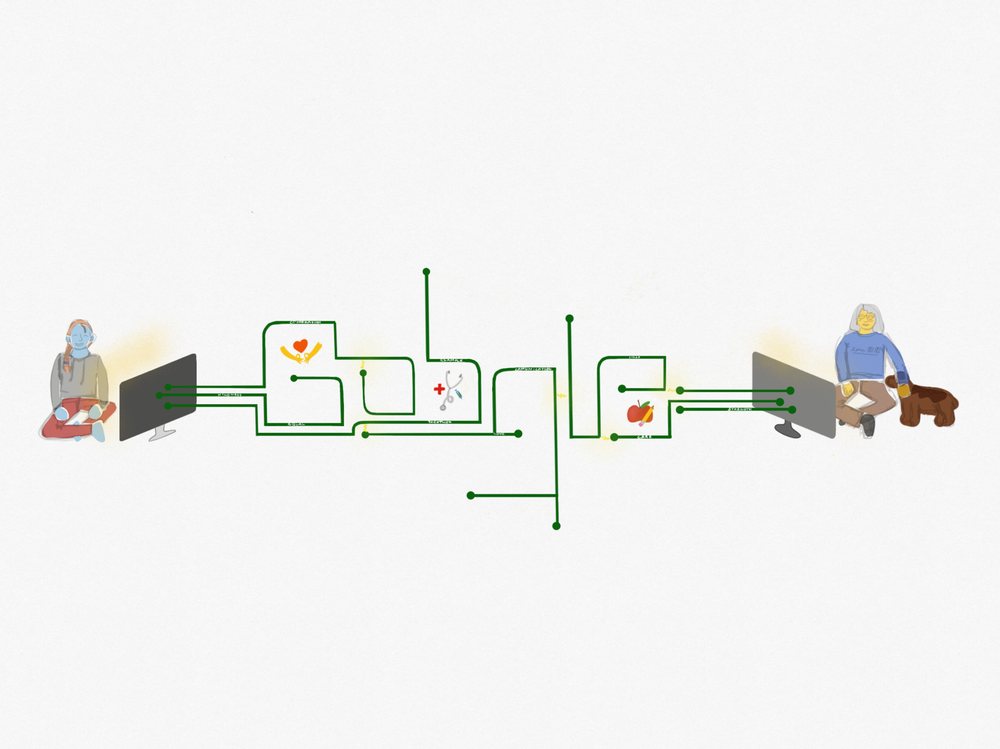 6th-7th grade National Finalist: Marketa Douglas, Rhode Island
Title:Connections and kindness
Artist statement: "My Doodle shows my grandma and I, connected by one of the only ways of communicating at this time. It's meant to represent doing your best to be kind and stay strong for others, with the different symbols showing other places I see this strength every day."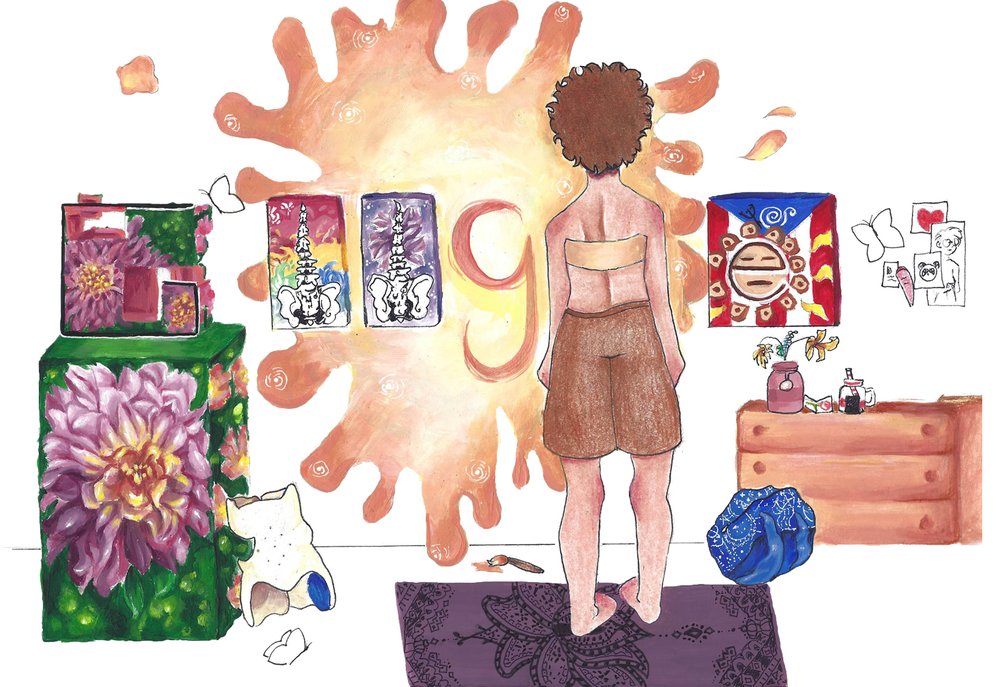 8th-9th grade National Finalist:  Kiara Susana Ponce Virella, Puerto Rico
Title:Splash of hope
Artist statement:"I am strong because I got through scoliosis surgery. That's the scar decorating my back. All the canvases that I painted show I grew stronger. Now I'm coming to terms with who I am, and look past my flaws. I may not seem strong, but I am. In my own special way, just like everyone else."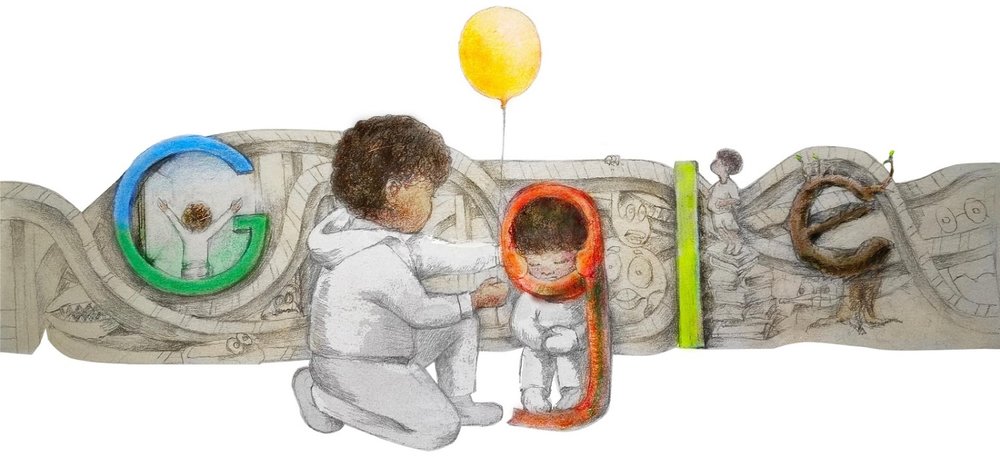 10th-12th grade National Finalist: Milo Golding, Kentucky
Title:Finding hope
Artist statement:"I am strong because I have hope. I once asked my father how he overcame obstacles and became who he wanted to be. He replied, 'Hope, hope keeps me strong.' After I unexpectedly lost him at 13 due to a heart attack, it helped me overcome grief and support other children who lost loved ones."
Congratulations again to Sadra, Elise, Marketa, Kiara Susana and Milo! As national finalists, our student winners will receive a $5,000 college scholarship, Google hardware for the school year and some fun Googley swag. Check out their artwork, along with all 54 of the state winners on our website gallery. 
In the next and final stage of the contest, our judging panel will determine which of our five national finalists will be chosen as the national contest winner. In addition to their artwork being featured on Google's homepage for 24 hours, they'll receive a $30,000 scholarship and a $50,000 technology package for their school. 
Good luck to our national finalists, and stay tuned to find out who our 2021 contest winner will be!